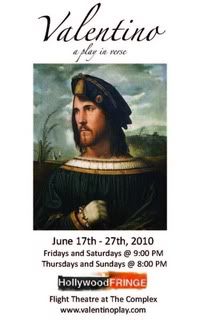 Above is the the image we will be using for most of our marketing. We did buy a quarter-page ad in the Fringe Guide and a very similar image will be used on the post cards that are soon to be printed out.
I was in an online discussion at
Theatre Face
earlier this week with established theater companies talking about how to market your show. The biggest word that came out of it was "Focus". The full transcript of the interview (and digression) is available to read
here
. It's been nice seeing twitter reconnecting me to the theatre community here in Los Angeles and out in the rest of the community.
The next step for marketing is the postcards, banner, and then the press kits. I am still putting together our press list and it looks like we will be designing electornic press kits for everyone.